Check out what people are saying about Crisanta Knight: The Severance Game
And be sure to lock down your copy today!
Trust me; it's the right thing to do.
————————————————————————————————————————
Click here to leave a review on Goodreads
Click here to leave a review on Amazon
Click here to leave a review on Barnes & Noble
————————————————————————————————————————
Reviewer: Leandra Z.
Star Rating: 5 Stars
"This book was precisely my cup of tea and exactly what I needed after a long days hard college work and a burning need to be motivated and cheered up.
I would like to start off by saying that I will never get tired of Crisanta's on-point, fierce, sarcastic and humorous narrative that really just livens all of these books up.
Not only that, but I really appreciated Geanna delving into some deeper topics with this sequel. Trust, self-discovery and friendship were definitely the defining factors of this novel, with a great emphasis on trust. It really showed the readers the dire consequences of withholding important information from the people who are closest to you, and how that can greatly (and negatively) impact friendships that were made to last forever. It was truly heartbreaking to see the ties between both Crisa and SJ and her and Blue get severed due to Crisanta's somewhat foolish decisions.
What also really fascinated me was the self-searching that Crisanta does in this novel. You can tell that she is clearly torn between two expectations that are pressing down on her which then in turn makes her go to extreme lengths in order to preserve her 'anti-Damsel-in-Distress' image.
Crisanta is far from being perfect and is an extremely flawed character, having at some times made me want to reach into the book to shake some sense into her. But that was precisely what made this book so refreshing and that much more interesting to read. It's because of those flaws that her amazing character development can shine through and teach all of us readers how we can apply these important life lessons to our own (very un-fairytale) lives. Crisanta is far from being the person that she is satisfied to be, but the she has definitely reached some important milestones!
Definitely recommended to everyone!"

Reviewer: Hannah M.
Star Rating: 5 Stars
"This series really is amazing. The adventure, danger, and mystery of the first book remains in its sequel. I still enjoy all of the characters, and Crisa is wonderfully realistic. She has flaws, she has her struggles, but you love her for it and it makes her believable and sympathetic.
The author teases you a lot. She will mention something, just enough to set you wondering about what it means, or why it happened, or what the solution to the mystery is. You can go for half the book without its being mentioned again and you forget about it, but then it is brought up once more, and all of your curiosity returns. The answer is right in front of you, if you just read a little bit further you'll find out – but then a new character walks in and ruins the conversion. Its so frustrating and it kills you, because you need to know the answer, but it keeps you reading, it keeps you fully engaged in this novel. Whenever I picked it up I didn't want to put it down until I finished it. There was also something revealed in the last chapter that I didn't see coming. Apparently everything that I had guessed about Daniel was incorrect.
This series is incredibly well written, with an engaging, exciting plot, and plenty of little mysteries and plot twists to keep you reading and wondering.
I recommend this to all lovers of YA lit, fantasy, fairy tales, and magic."

Reviewer: Kim H.
Star Rating: 5 Stars
 "I had a whole lot going on with family emergency stuff and so I had to wait to read this book. I want to thank Netgalley and the Author/publisher for the chance to read this one and review it after the first book. I couldn't wait to get my hands on it. I had high expectations and it met and exceeded them.
Crisanta is such a wonderful character she really comes to life. She is witty, fun, sarcastic and everything you want. She is sometimes very annoying but she really does show growth and soul searching on her part and that is very important.
Friendships and trust were tested and defined and all the characters really grew in this novel. It was fantastic to see. We got to see an in depth look at what happens when you omit things and aren't entirely truthful and expect other people to trust you. Crisanta often goes way beyond what is necessary to prove she isn't a damsel in distress which leads to way more problems than is necessary which leads to great story.. when she could have relied on her friends instead and been much better in the long run.
You really got to see into Daniel's character as well. Like I said they all grew. Even as they turned on each other.  I can not wait to see more of these Protagonists determined to be in control of their own destiny.
Geanna Culbertson truly deserves one of my rare 5 star ratings. Her writing as well as character development is amazing. I cannot wait to see more from Crisanta, SJ, and Blue as they continue on their journey and grow together."

Reviewer: Patricia H.
Star Rating: 5 Stars
"Book 2 in the Crisanta Knight series is a lot of fun, but a little darker than book 1.  In it, Crisanta and her band of friends, plus Daniel, are freshly on the run, but heading right into even more danger. And the whole time, Crisanta bears witness to darker and darker dreams involving her friends, herself, her enemies and even the mysterious Natalie Poole.
Action and adventure are huge in this book with rarely a dull moment, even in Crisanta's dreams, and all of this is paired with quirky re-imaginings of fairy tale favorites. But that isn't all. Crisanta is facing some existential issues, doubting who she is and whether she's been deluding herself her entire life. That, and a growing distrust of her dearest friends that's putting a strain on everything.
I'm not going to outline which fairy tales make an appearance in this book as that would ruin the surprises. I particularly liked the ones Crisanta and team run into in the forest. I think the more into (or formerly into) fairy tales and Disney movies you are, the more of a kick you'll get out of all the wacky scenarios and cameos.  Overall, I loved this story for its originality, action, and suspense. Fans of fantasy, fairy tales, and action/adventure will likely enjoy this story.
I received an advance review copy of this book from NetGalley."

Reviewer: Carly H.
Star Rating: 5 Stars
"I was so thrilled when I saw that the second book in this series was coming out. Geanna Culbertson has created a magical world in which we get to follow the descendants of well-known fairy tales as they try to find themselves and avoid those who don't want them to. The series centers around a group of these descendants as they try to break with the norm and create their own destiny. Our main character, Crisa (daughter of Cinderella), is especially adamant about breaking with her predetermined destiny.
The second book in the series certainly lived up to my expectations. Crisa is just as fierce and sassy as ever and the adventure just as daring. This book follows the group as they try to find the second item needed in order to find the author and get him/her to rewrite their stories, or better yet, not write their stories at all. Along the way our characters face a mess of problems, including getting trapped, travelling to another world and being hunted down by antagonists. Can they make it through all these challenges? Plus, can Crisa let go enough to trust her friends and let them help her on this mission? To make matters even more complicated we start to learn that maybe Crisa and her friends are just a small part of what is really going on in Book and in other realms as well.
This book is a good read for any age. So grab a copy for yourself, your kids, your friends, etc.. and get ready to go on a magical journey!
I received this book from NetGalley for this honest review."

Reviewer: Sabrina A.
"I absolutely loved this newest installment of Crisa's adventure. The writing transports you to another world where magic and heroes are just another part of normal life. It's great to find out the backstory to how Crisa became friends with Jason, SJ and Blue. The only thing is that I found it difficult to believe Crisa would be quite so stubborn in believing that it's ok to accept help from her friends! There's plenty of action and soul searching and Crisa learns just how strong she really is. I'm already looking forward to the next in the series."
I received this book from NetGalley for this honest review."

Reviewer: Alex K.

Star Rating: 5 Stars
"I liked the first book in this series, but I love this one. A world of magic, princess and heroes. Who wouldn't wanna live there? And who wouldn't wanna have friends like Crisa? So, why would she have this big of a problem to accept their help? This is what friends are for! It was great to find out more about how Crisa became friends with SJ, Blue and Jason. If you like reading books full of action, magic and a strong heroine, this is the one for you. Can't wait to see what happens next to Crisa and her friends."

Reviewer: Lilly Reynosa

Star Rating: 5 Stars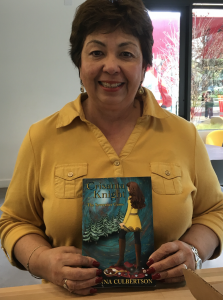 "From the start of the book to the end, Geanna keeps us in suspense and thinking of what will happen next. I could not put the book down and had to downloaded it on my phone so that every chance I had I would read on till I finally finished the book!
"Geanna does not let us down with the story continuing in its adventure to get to the Author in order to change her destiny.
"Now I can't wait to start book 3 and experience once again the adventures and this wonderful world of "Book" that Geanna puts us in."

Reviewer: Izabella F.

Star Rating: 5 Stars
"Crisanta Knight is back! 🙂
"Imagine a world of Book, where a mysterious author decides whether you'll be a protagonist, an antagonist, a hero, a princess. Crisanta Knight, the daughter of Cinderella and Prince Charming doesn't want to be just a damsel in distress and decides to re-write her story. In order to do that, she embarks on a dangerous journey with four of her friends.
"The second book picks up right where the first one ended, and we still read about our characters trying to fight against their prophecy, but this time the author also touched upon the theme of trust – trusting oneself and trusting other people. Once again, Crisanta is a strong and ambitious character, who would do anything to change her destiny and have control over her life but also, her character became more complex as she fought with her inner instincts and uncertainty whether she can trust everyone around her. She's determined to prove everyone that despite what people think about her and the archetype she should conform to, she's capable of so much more and I admire her for it. I also really enjoyed seeing her character development, as Crisa had to understand what she really feels and allow other people in. It was good to see that other characters went through some growth as well.
"As in the first book, the worldbuilding continues to be amazing. In this installment we see a lot more of the fairytale lands and I also felt like there was more action. We visited more magical realms, the magic train, our "human" world, where we met a lot of fantastic creatures and generally learned more about the worlds created by the author. I especially loved the little nod to the mystery of the Bermuda Triangle. I feel like the pace was much faster, our characters had more fun adventures and the story was really enjoyable and easy to follow. I began to get used to Crisa's long inner monologues and accepted it as her character trait, and the flashbacks/visions introduced to the story made everything even more interesting. I liked it that some of the storylines from previous book were tied up, and we got new questions that are waiting for answers.
"Overall, I think that Crisanta Knight series is a really original and fun series for all those who love fairytales and would want an interesting, fresh retelling. The Severance Game was a truly good, engaging continuation of the story and I can't wait to see what happens next! 🙂

Reviewer: Mia W.
Star Rating: 4 Stars
"I love this story; it brings out the inner princess in me.  The main character reminds me of Merida from Brave due to her personality (I also have my fingers crossed that at some point she makes a guest appearance).  I enjoy that whilst the characters are true to their own stories whilst still being able to adventure and surprise you, including some dark humour – one of the three little pigs burning himself creating the smell of bacon.
The stand out part for me is that there's a bunch of teenagers, trying to save the world, and themselves but the story line doesn't allude to finding their One True Love, it's the characters and their desire to be in control of their own destiny which is a positive change from a lot of the current books in the genre right now."