Crisanta Knight: Into The Gray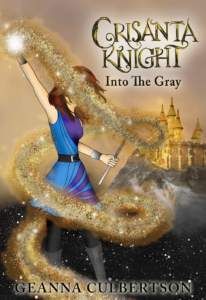 "Maybe the gray was not where people went to get lost. Maybe it was the perfect place to be reborn. For in that gray was the potential to be anything, to become anyone."
In Book Seven of The Crisanta Knight Series, join our heroes on a quest to break a sleeping curse, quell a rebellion, and deal with blurring lines of morality as they try to prevent antagonists from destroying all that's good.
As relationships change within our group of fairytale friends, it's time for Crisa to face the consequences of her growing magic powers and the realm's Fairy Godmother Supreme. As part of that, our title heroine must endure her greatest trials of strength and character yet as she defines herself in this evolving magical world. Throw in adventures with Sandman, the 12 Dancing Princesses, and King Midas lore, and this story will have you on the edge of your seat from start to finish.
Order Your Copy Today!
📚😊 Buy Local if You Can 📚😊