WELCOME TO: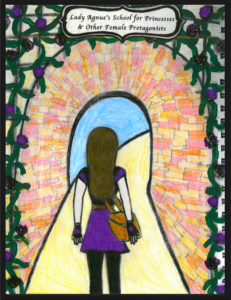 Have you been chosen to be a main character in your own future fairytale? Our fine institution is where young girls from across the land train, study, and prepare themselves for their fairytale fates. We offer a diverse and enriching curriculum, a variety of after school clubs and  activities, and many opportunities for socializing with our brother school—Lord Channing's School for Princes & Other Young Heroes.
Our academy has a myriad of famous alumna, and if you are a Legacy or a Half-Legacy, you can rest assured that you will find the tools here to make your mark and forge your own memorable fairytale. Meanwhile, if you are a new protagonist with no ties to former fairytale characters, Lady Agnue's will help you find your path and fine-tune your archetype's key traits. Continue reading about our school below!
Peruse a Selection of Our Classes
Some of Our Required Courses:
Potions
Damsels in Distress (D.I.D.)
Fairytale History
Singing with Nature
Animal First Aid
Princess First Aid
Color Coordination
Calceology
Table Manners & Banquet Basics
Ballroom Dancing
Public Speaking
Senior Thesis Course
Balls on a Budget: How to Maximize Your Happily Ever After without Bankrupting Your Kingdom's Economy
A Sample of Our Electives:
Driver's Ed
Runaway Carriages 101
Sewing: It is Not Just for Mice & Small Birds
Whimsy, Flirtation, & Other Coquetry
Hair Dos & Don'ts
Archery
Horseback-riding
Homemade Explosives
Charm & Death
Creative Rope Use 101
Escape! Getting Out of Locked Closets & Other Places You're Trapped
Our School Amenities
Expertly Curated Library
State-of-the-Art Potions Lab
Rapunzel Spa
Practice Fields (with barn and stables)
Lady Agnue's Fully Stocked Student Store
Lady Agnue's Faculty

Lady Agnue's School for Princesses & Other Female Protagonists is run by a prestigious faculty of all female professors who have many years of experience. Lady Agnue herself is a part of a long line of headmistresses who have dedicated their lives to the guidance, nurturing, and molding of fine, fairytale young women.
Biggest Events of the Year
Our school for princesses and female protagonists has many amazing events. Some yearly highlights include the Ball of the First Frost in December that officially presents our graduating seniors, Twenty-Three Skidd Tournaments at Lord Channing's in the spring, and our annual fall field trip to one of the two kingdoms by the sea.
Classes begin in September and conclude in June with time off for winter break and spring break. If you are a new student or the parent of a new student, feel free to send inquiries via messenger bird to our headmistress, Lady Agnue, and your questions will be answered as soon as possible!