Check out what people are saying about Crisanta Knight: Protagonist Bound.
And be sure to lock down your copy today!
Trust me; it's the right thing to do.
————————————————————————————————————————
Click here to leave a review on Goodreads
Click here to leave a review on Amazon
Click here to leave a review on Barnes & Noble
————————————————————————————————————————
Reviewer: Mia W.

Star Rating: 4 Stars
"The headline should read Harry Potter for Princesses. With a soft spot for fairy tales this book was ideal for me, I enjoyed the theme that you can control and manage your own fate but you have to fight for it, and found it refreshing to not have an in your face love story."

Reviewer: Mela N.
Star Rating: 5 Stars
"Would recommend it to all people who love YA."

Reviewer: Riddhi P.

Star Rating: 5 Stars
"This book is different and awesome.The story is amazing. The way Crisanta wants to change her life is remarkable. I look forward to reading the next book."

Reviewer: Patricia H.

Star Rating: 5 Stars
"One word, delightful.
"Crisanta Knight: Protagonist Bound is sort of a fairytale descendant version of Harry Potter, but unlike Harry, Crisanta isn't a chosen one or unfamiliar with her lot in life. She knows exactly what's expected of her, but she doesn't plan to succumb to that fate easily."

Reviewer: Kristin C.
Star Rating: 5 Stars
"A great beginning for a new series Crisanta Knight: Protagonist Bound is an outstanding book the writing, pace and premise are very well done the story keeps you turning the page in anticipation of what will happen next. While the book is a little long, not a page of it is wasted so you don't mind the length and it can be enjoyed by all ages. I can't wait for the next one in the series."

Reviewer: Lucie

Star Rating: 5 Stars – Didn't want it to end

"Unexpected excitement. I'm hooked. Hope this becomes a movie! Tell me there are more books out there to continue this story!!!"

Reviewer: Leandra Z.
Star Rating: 5 Stars
"This book was really good and I would definitely recommend it to anyone who loves a good fairytale. It has an awesome princess/badass heroine protagonist, a fairytale mixup and a great moral backstory. What more do you want? Crisanta Knight is Cinderella's daughter, destined to become a new princess, who should be completely complacent, submissive and above all, extremely princess-like. This is what she gets taught at her fairytale-finishing school Lady Agnue, and she absolutely despises it, because she believes she is more than just a proper royal. This story definitely had a lot of character, and teaches a wonderful lesson to us women: we can be princesses and kick ass, and still look absolutely gorgeous (especially seeing as there is a charm for that! – but I won't reveal too much, shhh…) With her combat boots and her magical wand, Cristanta ventures out to change her destiny which the mystical Author has picked out for her and shows that women should take charge of their own lives with a passion, feistiness and a burning fire that is untamable. Not only that, she also manages to show a more vulnerable and open side – especially in regards towards a certain boy who sees right through her. I also loved the fact that the author wrote this book in a way that made it feel like Crisanta was speaking directly to the reader through her thoughts – it made her sassy comments just that much funnier."

Reviewer: Joan W.

Star Rating: 5 Stars – The next Harry Potter?

"Fast paced and kept ones attention. Nice to have a female main character. Many questions to be answered in future episodes. Would make a good film."

Reviewer: R. Clouse

Star Rating: 5 Stars
"I recommend this book as it reminds me of Tamara Pierces book series. You should buy this book or series."

Reviewer: Maggie

Star Rating: 5 Stars
"This is a wonderful series. the whole story is broken up into several tasks, one per book but they are complete stories by themselves. the writing style ranges from eloquent and magnificent building of the world and adventures to sassy and down to earth thoughts of the main character. it's like salty and sweet. absolutely fabulous! totally clean, no swearing. just a great story and characters."

Reviewer: Cheryl C.

Star Rating: 5 Stars
"A very well written book in this series, helps you to appreciate your strengths and weaknesses."

Reviewer: msoc1

Star Rating: 5 Stars
"A clever and engaging beginning to a strong coming-of-age story that mixes realistic issues with a modern take on fairy tale problems."

Reviewer: Sabrina L. (Librarian)

Star Rating: 5 Stars
"I really enjoyed reading this book. The author does a great job of creating relatable and fun characters that have interesting personalities. From page one I was hooked and did not stop reading until I was finished. The author does a great job of keeping the reader interested throughout the entire story. I loved that by the end of the book there were still some subplots that were not addressed, and will no doubt be brought up in future books. By doing that it leaves the reader curious and wanting more. My only complaint is that there is some repetitive words and phrases that the author uses too much that becomes a little annoying. Otherwise I thought the book was fantastic and I cannot wait to read the next installment."

Reviewer: DelAnne F. (Educator)

Star Rating: 4.5 Stars
"The plot and story are filled with humor that will leave you chuckling with some of the scenes and frowning along with the characters in frustration as the fighting the established status quo. Revisit your childhood friends and make a few new ones."

Click the image to download the video review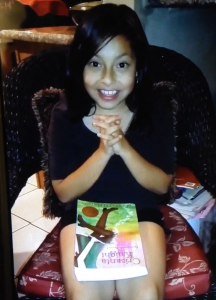 Reviewer: Renee G.
Star Rating: 4 Stars
"I loved the different worlds. A great paced story. I enjoyed it from the first page to the last. I don't believe in spoiling the story because everyone should read this series. I can't wait to see what's next in the series."

Reviewer: Belinda K.
"This is a great story. Crisanta, SJ and Blue have an amazing friendship. You can see that their children and their children's children will be brought up knowing the stories behind their friendship, knowing each other as family, even though they're not blood. And there's plenty of teenage angst and intrigue to keep you turning the page. Your always rooting for them to change their destinies, to colour outside the lines and make their stories their own. I will without a doubt be recommending this book to all my family and friends. And I will definitely be following Crisanta's fate to its very end..!!"

Reviewer: Carrie G.

Star Rating: 4 Stars
"A great read that quite often had me laughing and enjoying what was going on. There's plenty of action and great characters. Definitely one I'd recommend checking out if you enjoy fairy tales to meet this next generation and root them on in their journey!"

Reviewer: Steph L.

Star Rating: 4 Stars
"There seem to be a lot of books that have come out recently that have that 'I am princess, hear me roar" thing going on, and it is getting a little played out, but… Crisanta Knight is not your average feminist fairytale remake. There is a lot of originality with the characters, setting, and the storyline in general. We're talking daughters of famous princesses, and other protagonist relations! So cool! Culbertson's writing is fresh and fun, and she has a way of adding enough sass to her girls without making them annoying, enough humor without it being silly, and enough description without it becoming a bore. Crisanta Knight is a fairly long book worth the time."

Reviewer: Kim H.

Star Rating: 4 Stars
"A strong read, I would definitely recommend and read again."

Reviewer: Izabella F.
Star Rating: 4 Stars
"The premise of this book caught my attention immediately. The idea of a world where fairytale characters are actual living people and The Author decides their fate by writing their story and assigning each of them a role sounded amazing, and world building was my favourite thing about this book. It felt like a look "behind the scenes" of fairytale stories. The whole world of Book is extremely detailed, well thought-out and very creative. It's one of those books that would translate to the big screen beautifully.
"The story was a bit slow at the beginning but it picked up in the second part and kept me engaged. Aside from the main plot, there was some mystery going on and I'm curious how it's going to work out in the next books. I adored Crisanta as a character and her friendship with SJ and Blue. Crisa was strong-minded, courageous and ambitious, with a fun sense of humour and unafraid to go against the grain. I also love the main theme of the book – that everyone should be allowed to decide of their own fate.
"Overall, Crisanta Knight is a great debut and a start of a very promising series! It's a story full of fantastic, magical adventures and friendship, with inspiring characters and a fresh and interesting take on the fairytale universe. If, like me, you love fairytale retellings, you should give a it a try and I'm looking forward to the second book!"

Reviewer: Laura F.

Star Rating: 4 Stars
"A fun, quirky read, that shows the storybook characters you know and love from a different side.
Definitely recommend."

Reviewer: Leslee P. & Talei L. (Bubble Bath Books)

Star Rating: 4 Stars
"If you're expecting a straight-forward fairy tale, you're in for a wild ride. We've got a touch of romance, plenty of poisonous peers (both male and female) to hate, magic everywhere (including potions, spells and creatures) and the plot twists just keep on coming. My only issue (besides the cover) with Crisanta Knight, Protagonist Bound is that it ends on quite the cliffhanger. I can't wait for Crisanta Knight, The Severance Game to come out in December."
Read the full review here.

Reviewer: Jenna G. (Bookseller)

Star Rating: 4 Stars
"A cute YA fantasy book that actually has a female protagonist that young readers can look up to."

Reviewer: Lexxi K.
Star Rating: 4 Stars
"I received an ARC of this book from NetGalley and Boutique of Quality Books in exchange for an honest review. This is both the first book I've read by this author and the first book in this series. I found the book somewhat randomly when I was searching through NetGalley to see if there was anything interesting to read. This one caught my eye, and I'm glad it did. There's some kind of addictive/hypnotic quality to the writing that caused me to want to keep reading, to continue following along as the story unfolded."

Reviewer: Margaret S. (Media)

Star Rating: 4 Stars
"A great book that makes you feel like a part of the story."

Reviewer: K. Kunden

Star Rating: 4 Stars
"Great concept, likeable characters, and an entertaining read."

Reviewer: Carly H.

Star Rating: 4 Stars
"Let me begin by saying, there is nothing that quite compares to a good fairytale, nothing except adaptations of fairytales with a modern spin on them. I get so excited when I see new fairytale adventure books, in particular youth or young adult fiction, that allow for the reader to experience the magic and timelessness of fairytales and magic while also getting to veer off the stereotypical norm of some of these stories. Crisanta Knight: Protagonist Bound by Geanna Culbertson certainly did not disappoint. The story follows the life of, as the title suggests, Crisanta Knight, who is Cinderella's daughter and unfortunately predestined to be both a protagonist and princess based only on who her parents are.
"Without giving anything away I will say that she certainly treads off the beaten path. The author does a good job at weaving together the story with grace, curiosity and plenty of humor. This story is full of magic, adventure, friendship and, the determination of one girl to find who she is and what she is made of. I will be anxiously awaiting the next book in this series and recommend it for all ages!"